What is Marketing Mayhem?
Marketing Mayhem is JVZoo's signature event of the year; it's acclaimed by several as the "#1 Internet Marketing Event" of the year (or 2014 for that matter!)
The team at MML 2014 have found the secret to hitting an internet marketing conference out of the ball park. Marketing Mayhem live is more than a conference where you sit and hear from some of the movers and shakers in internet marketing; it's also an opportunity (or rather it a large emphasized) around the networking scenarios.
Marketing Mayhem Live 2014 allows you to rub shoulders with experts in internet marketing to build relationships and network that will excel your business. Hence not only do you learn information that can accelerate your internet marketing business but as most attendees share, "JV deals done there could change your life!"
If this isn't enough incentive for you to hop on to the Marketing Mayhem 2014 site now and SECURE your tickets then we suggest you check our stellar Marketing Mayhem Live Bonus which basically pays your ticket value over.
In reality, Marketing Mayhem 2014 is MORE than an internet marketing conference, it's a networking pad where you have the chance to build million-dollar partnerships. (figuratively and quite possibly literally)
Why Attend Marketing Mayhem Live 2014?
I think the real emphasis on Marketing Mayhem Live is the JV and Network opportunities that can be build both as an affiliate and as a product owner. If you're in internet marketing, you don't get many opportunities to meet with many top performers in internet marketing like this.
1)      It's in SUNNY Orlando, Florida! – You can double the Marketing Mayhem Live experience as a Vacation
2)      Masterminding and Networking opportunities with leaders & experts
3)      Specially designed workshops to help your online business
4)      Hear from top key-note speakers
5)      Build relationships and meet 100s of other internet marketers
Adding to this there will be a Marketers Hall of FAME event where they will be inducting five marketers as well as a Marketing Mayhem party with free food, free drinks, and Vanilla Ice. What a great combination.
Who you can meet @ MML 2014:
Here are some of the keynote speakers invited to Marketing Mayhem 2014:
–         Bryan Zimmerman: Direct response marketer
–          Mike Filsaime: I venture to say few internet marketers would be unaware of who Mr.Filsaime is especially with his introduction of butterfly marketing. There's even a wikipedia page about this.
–          Todd Grosse: Infamous Warrior Forum member who has released some of the most successful products on internet marketing and had a hand with introducing VideoMaker FX.
These are only three of the 9+ keynote speakers out of the 100s of attendees at Marketing Mayhem Live 2014 event!
What others are saying about Marketing Mayhem:
Personally I think it's best to hear from those who have attended Marketing Mayhem Live to give their opinion. Here are some comments on the Warrior Forum thread:
"This is the best networking event of the year. Do you want to build a relationship with some big boys in online marketing. They will all be there and they will all be accessible to you."

– Brad Spencer

"The JV Zoo crew always knows how to put on a good show with good speakers, great parties, and the people are awesome. Definitely a "must attend" Gonna be a blast!"

– Rich Will
One thing that really makes MML 2014 different from most conference is the tightly knitted community approach on a large scale. The organizers of Marketing Mayhem Live have understood the value of building relationships and networking more than any speaker can deliver (and they do deliver some HUGE value, probably more than what you may find in most IM eBooks).
Finally, if you still need more reasons to attend Marketing Mayhem 2014, we hope our Marketing Mayhem live Bonus will tip the scales for you because it really is going to be a great experience for many.
Marketing Mayhem Live BONUS:
I truly think Marketing Mayhem is an experience every internet marketer should experience. Simply take a look at what other people are saying:
We want to compel you as much as possible to attend Marketing Mayhem 2014 in Florida which is why IMInfoHub will be offering some Marketing Mayhem 2014 Bonuses which will likely be the BEST you'll find!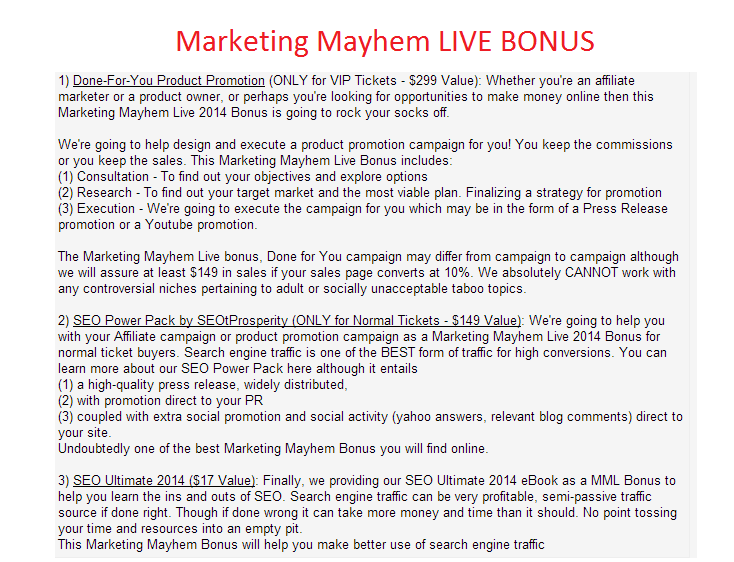 Here's a quick reason why we have the BEST Marketing Mayhem Live Bonus:
Get REAL, SOLID Value that will help your business and help your pocket books. We're offering MORE than eBooks, Video courses, or Webinars. With our MML 2014 Bonus you're getting services that literally send you sales and revenue – we do the work, you get RESULTs.
With our Marketing Mayhem Live Bonus you're getting a DONE-FOR-YOU Solution that you may easily by double or triple your ticket price – it sets the ground work so you can build more easily on it. Our work reflect further than sales, we get you more web presence and recognition.
Marketing Mayhem Live Bonus Limitations:
As you can imagine, this is VERY intensive work which includes many hours from the conceptualization to the execution. For this very reason we can only offer this bonus to the FIRST 10 Customers who purchase Marketing Mayhem Live from our affiliate link.  (If you're seeing this bonus offer then it's still available)
Finally, we reserve the right to refuse any controversial products/topics for the MML 2014 Bonus offer. You will have the opportunity to re-submit another product for promotion. We're very strict with refusing any adult or socially unacceptable products/topics.